Welcome to Taljar Polwarths
Taljar Polwarths are based on Kangaroo Island, South Australia, within the Plateau country of 26 inch rainfall and have been running Polwarth's for over 60 years with the late Vincent McArdle first trialing the breed in 1959. He discovered that the merino was not performing in this wet climate. Now David and Lynne McArdle, along with their children Jared and Talisa are running the stud to meet today's markets and ever changing trends.
The stud has been focused on breeding Dual purpose sheep that produce a fast growing prime lamb while still producing a min 5kg 21 micron fleece. The Dual Purpose attributes of this breed mean that there is market versatility within their wool, and meat enterprises.
The Polwarth adds extra advantages for any sheep breeder. These include:
True All Rounder
High yielding lustrous crimpy wool
Soft 21-23 micron
5-6kg wool cut
Fertile
Docility
Doing ability from extra muscling and fat content
Maternal instincts
Producing prime lambs even as a pure blood
The Polwarth is an adaptable, true to type animal which excels in lamb, carcase and wool production.
The stud is MN3V, with Sheepmap certification number S287 and Brucellosis accredited 1342.
5th Annual
On-Property Sale
Wednesday 12th October 2022
(2nd Wednesday in October)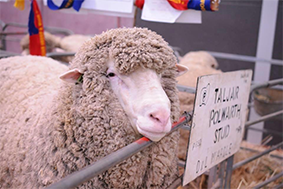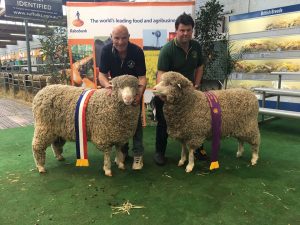 2017 Interbreed Champion Longwool Ram
& Reserve Interbreed Champion Longwool Ewe

Useful Links
The Ultimate AUSTRALIAN dual purpose sheep